Investment Opportunity: You Can Now Own Shares of Terra Biotics on StartEngine
In an effort to scale our product, Terra Biotics is currently raising up to $5M via a Regulation Crowdfunding (Reg CF) offering on StartEngine. We want to enable our customers and stakeholders who believe in us the most, by giving them the opportunity to invest in Terra Biotics and become a part of our growth as we continue to bring Terra Biotics products to millions of farmers in the US. 
Investments in Terra Biotics can be purchased at $200, with various investor perks you can unlock at higher levels of investment. Check out our perks here. 
In this blog, I'll go in depth on why Terra Biotics is raising money, what equity crowdfunding is and why we went the equity crowdfunding route, and how you can become an investor in Terra Biotics today. 
Why Terra Biotics is Raising Money on StartEngine
Food growers are looking to grow high-quality, robust plants that are healthy and have great flavor in large yields. Unfortunately, using chemical-based fertilizers leads to several issues, including: 
Killing beneficial soil microbiology that works synergistically with the plant root system. 

Wastage and eventual runoff into our water systems, leading to many problems. 

The fertilizers are like giving five-hour energy shots to plants without providing all the critical nutrients and trace elements. 
At Terra Biotics, we are offering a complete nutrition package that is beneficial to soil microbes, so plants thrive, reduce fertilizer runoff, and rebuild a robust soil food web that works with your plants. 
Over the last few years, we have been validating the effectiveness of our product line. We've also made dramatic improvements to our manufacturing processes, while expanding our marketing efforts.  
We've received amazing feedback from our customers: 
David -  "I couldn't believe my eyes when I pulled my plant out from the pot and the root ball was so massive. Literally, like a huge mop. I'm a believer now and will never change from Ultra-Bio Boost. Love me some Terra Biotics!"
Richard - "No bullshit, I've tried everything since I started growing in 1971…
Your product is the best period"
Kevin - "My roots at the grow grew about one inch when I looked today! 
Just a small mix of the product and the clones love it…"
Jameson - "I can't figure out why this product works so well. It is fast acting like a chemical fertilizer, but it's organic and gets great results. I think I want to invest in the company…"
From this feedback, I knew it was time to scale our product line and distribution. However, scaling any startup takes a tremendous amount of capital.
We are raising money on StartEngine to help us raise capital faster so we can increase our marketing budgets, brand awareness, customers interactions, and ultimately increase sales. Ultimately, the money you invest in Terra Biotics will help us build up our team and drive growth across the country. 
What is Equity Crowdfunding and Why Did Terra Biotics Choose this Route?
Equity crowdfunding is a process whereby people (the crowd) can invest in early stage companies that are yet to be listed on public exchanges for shares. As a shareholder, you are a  part owner of the company and stand to benefit if the company does well. You can think of equity crowdfunding as being something like Kickstarter meets Shark Tank!
Previously, investing in startups was a privilege available to only a select few: angel investors, venture capitalists (VCs), and ultra-high net worth individuals. However, now the tide is finally turning. Thanks to the SEC enacting Title III of the JOBS Act in 2016, Regulation Crowdfunding (Reg CF) has become a growing force in the United States. Reg CF gives everyday people the opportunity to invest in private companies alongside accredited investors for the first time in history, as long as they make their investments through SEC-registered, FINRA-regulated intermediary funding portals like StartEngine. 
The JOBS Act of 2012 increased the shareholder threshold for companies that choose to remain privately-held from 500 to 2,000 shareholders.  Additionally, a special feature of regulation crowdfunding allows privately-held companies to go beyond 2,000 shareholders as long as the company is using an SEC-registered transfer agent.
The bill eased restrictions on the buying and selling of securities, enabling start-up companies like Terra Biotics to fundraise up to a certain amount annually through crowdfunding portals registered with the Securities and Exchange Commission (SEC).
Reg CF has ushered in the democratization of private capital markets. Non-accredited investors, meaning individual retail investors (AKA, the general public) earning less than $200,000 or have a net worth less than $1M outside their primary residence, can annually invest up to either $2,000 or 5% of their annual income or net worth, whichever is greater. 
Reg CF doesn't only stand to benefit the public - it benefits companies like Terra Biotics  too. In the past, startups had no choice but to raise capital through VC firms and other corporate avenues. Now, in addition to going the VC route, Terra Biotics can raise money directly through all of our fans and loyal supporters, a global community of tens of thousands of people. We want our investors to be our biggest brand ambassadors and vice versa!  
Brand new rules changes to Reg CF now make this an especially attractive avenue to Terra Biotics to raise funds:
Reg CF/ Regulation Crowdfunding
Higher Funding  Limits: Increased from $1.07M to $5M starting 3/15/2021

Can run "Test The Waters" campaign prior to public launch

Both non-accredited investors and accredited Investors can participate

MUST be conducted through an SEC-regulated funding platform like StartEngine

Company must file an Offering Memorandum "Form C" with the SEC 

Audited financial statements required for most companies
The Terra Biotic Roadmap
We have an ambitious roadmap in mind that we can reach with the support of a successful equity crowdfunding campaign. With our funding we plan to:
One Year
Add several experienced and knowledgeable outside sales staff to our team to drive customer interaction and increase sales opportunities. 

Build brand awareness through digital marketing, trade shows, and events. 

Launch our potting soil line.

Increase sales by over 300% from 2020.
Three Years
Continue building brand awareness and credibility.

Gain sales team coverage over the entire USA.

Increase sales to over $3 million annually.

Achieve 20% EBITDA margin. 
Five Years
Optimize the market-facing team.

Evaluate adding a second location to serve local markets better.

Increase sales to over $5.5 million. 
Equity crowdfunding stands out as an excellent way to gather like-minded investors and growers interested in becoming a part of our growth story. We also want to give individuals who support organic growing practices or just want to invest in a company with an experienced and solid management team a chance to be part of increasing the use of great products in a growing market. 
Don't Miss The Opportunity to Invest in Terra Biotics!
If you want to invest in a company that has an exciting future and will make a difference in farmer's lives, then join Terra Biotics equity crowdfunding campaign. Your investment will make you an owner of our copay so you can make a difference while also benefiting from our success. 
Plus we have some incredible perks we encourage you to take advantage of: 
$200 | 2 Acre Club
Invest $200 and you'll receive a 10% lifetime discount on up to $2,500 purchase per year.
$500 | 50 Acre Club
Invest $500 and you'll receive a 15% lifetime discount on up to $3,500 purchase per year + we'll plant 3 trees in your honor.
$1,000 | 100 Acre Club
Invest $1,000 and you'll receive a 20% lifetime discount on up to $5,000 purchase per year + we'll plant 10 trees in your honor.
$2,500 | 250 Acre Club
Invest $2,500 and you'll receive a 25% lifetime discount on up to $10,000 purchase per year + 5% Bonus Shares + we'll plant 15 trees in your honor.
$5,000 | 500 Acre Club
Invest $5,000 and you'll receive a 30% lifetime discount on up to $15,000 purchase per year + 10% Bonus Shares + we'll plant 20 trees in your honor + Call with the Founder.
$10,000 | 1000 Acre Club
Invest $10,000 and you'll receive a 35% lifetime discount on up to $20,000 purchase per year + 15% Bonus Shares + we'll plant 25 trees in your honor + an annual call with the Founder for 3 years.
*All perks occur when the offering is completed.
Terra Biotics is in a unique position with the right timing for solid growth. The market is large and growing, demand is increasing, products are proven to work well, have a steady and growing customer base with repeat orders, and our social media following is growing with positive reviews. All this combined with a knowledgeable and experienced management team that is prepared to lead the company during this time of opportunity.
Join
Terra Biotics as an investor on Start Engine
and become part of our growth story!
---
Also in News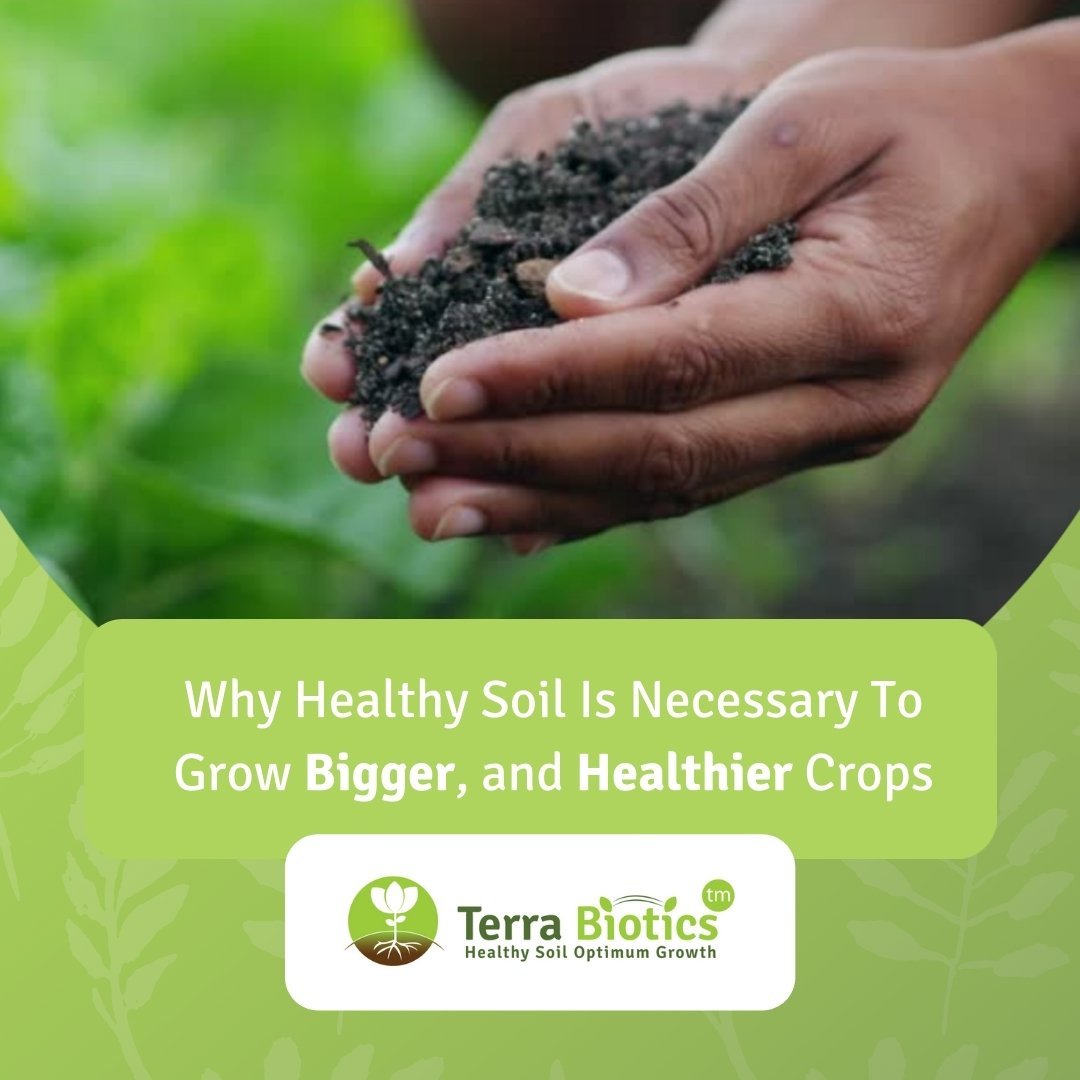 Healthy soil acts as a home for millions of microorganisms that help in aerating the soil and decomposing organic matter. Also, healthy soil provides nutrients to plants. And, the plants act as food for both humans and animals.
Experience shows growers achieving 25-30% higher yields with the right balance of nutrients, bacteria, microbes, fungi and mycorrhizae to build a strong root foundation that is able to mobilize and access the required nutrients and fight off diseases.